About
EASI ZERo develops and validates an easy-to-install global building envelope system for efficient energy renovation with a near zero energy balance and CO2 emission. Materials are based on bio-sourced and recyced materials to minimize the carbon-footprint. Material sources are wood, used wood pieces, grown mycelium or recycled construction waste.
Thus, EASi ZERo addresses the pressing need to cut the environmental impact of European buildings by rising their thermal performance in an efficient way while minimizing the carbon-footprint​.
Simulations on real use-cases will demonstrate the capacity of the EASI ZERo solution to rise the thermal performance of buildings by 20 %.
The project brings together a consortium of 16 European partners representing the whole construction industry and renovation value chain.
What is the EASI ZERo system?
The EASI ZERo system will provide a global and inclusive material solution for the whole envelope, including façades, roof and openings.
a selection of bio-sourced insulation materials showing high level of thermal performance
a sprayable render based on recycled materials that protects the insulation layer on the exterior façade and ensure a long durability to the materials
a roof of standard tiles or PV integrating tiles that respects aesthetics of the existing building thanks to specific coloured PV panels
windows and doors with an innovative lightweight and bio-sourced foam frame
a specific paint that provides a safe, healthy and aesthetic finish for the interior and the window frames
an energy storage layered material that provides additional thermal control on the interior side to smooth the demand/response performance of heating and cooling
Seven highligts of the EASI ZERo system
Bio-based and recycled materials with a low carbon-footprint
High level of thermal performance
Compatible to all building typologies
Easy to install and dismantle
Assessed performance at building scale over lifecyle
Documented environmental, social and economical impacts
Near zero energy balance and CO2 emission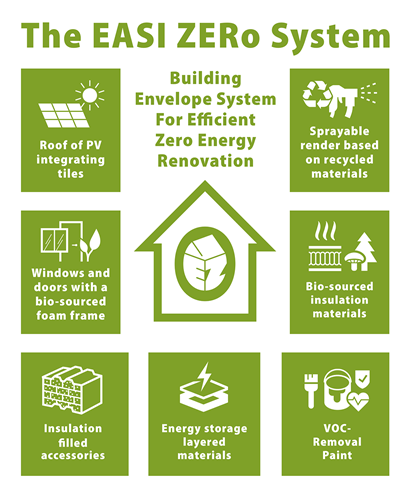 Project facts
Project start: December 2022
Project end: May 2026
16 partners from 7 European countries
Funded by the European Union 

from the European Union's Horizon Europe research and innovation programme under grant agreement No. 101091531.

Total budget: 

€ 8,086,602.25

EU contribution: €6,972,698.13